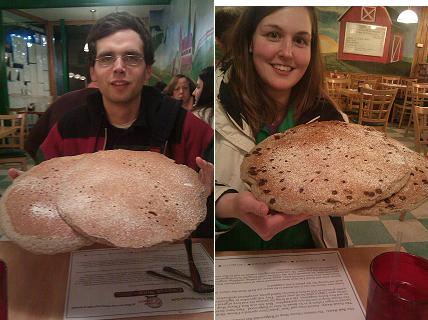 In the town of North Ridgewood NJ, there is a little restaurant called Country Pancake House. Well inside this place are pancakes (as you could guess) but these guys are no ordinary pancakes. As you can tell from the picture, these bad boys are huge. You have the option to get four small, or two large. We always choose to get the large, because as with workouts, it's gone big or go home. Now before you get the idea that you can eat all of these guys in one sitting, let me tell you that pancakes are one of our favorite foods and in the battle of humans vs. Giant Pancakes, the pancakes are 3-0.
When you first sit down to eat these things you think you can attack them with no problem. (We get the wheat...because, why not?) But after each passing bite you slowly, then quickly begin to realize that giant pancakes will not relent. But for some reason, after you recover from your food coma, you always want to go back, and with close to 200 varieties of over sized wonders to choose from, you could go back, again, and again and again.
We love this place, so much that we've driven the over six hours it takes to get there a few times and that is usually our first stop. Plus a bonus is that you have breakfast for about three days afterward, and for the price it can't be beat.
You can check out their website at http://countrypancakehouse.net/